Bordered by Nebraska to the north; Missouri to the east; Oklahoma to the south; and Colorado to the west, Kansas is a state in the Midwestern United States. One common thing about every US state is that there is always that interesting place to visit for your holiday, and in this series, we look at some of the top places to visit in Kansas.
This is to ensure that when you visit Kansa state in America, you would be able to know your way around some of the very important places to visit.
This has become our specialty on this website–to give you the guide to the most beautiful places on earth. Come with us as we take you through the top places to visit in Kansas state.
Top Places To Visit In Kansas
Regarded as the center of America by its geographical location Kansas is a state with history and there are a lot of sceneries in this place to visit and enjoy and that is why we are here.
Now, let us look at the places to visit in Kansas.
Wichita: Places to visit in Kansas
Though not the state's capital, Wichita is the largest city in Kansas, and it is home to several aerospace companies as well as the Kansas Aviation Museum.
It is in Wichita that you can find the Sedgwick County Zoo, an enormous collection of more than 2,500 animals. A visit to this place won't give you a bad experience which is why it makes our list of the top places to visit in Kansas.
Lawrence: Places to visit in Kansas
Lawrence, one of the cities in Kansas is certainly a place to visit.
The KU Natural History Museum has dinosaur fossils, live insects, and a honeybee colony.
On the South, sprawling Baker Wetlands is home to hundreds of bird species. And on the West of the city, trail-lined Clinton State Park has deer, plus bass and catfish in Clinton Lake.
There is no dull moment in Lawrence, hence, when it is nightlife, art, and culture you are looking for, then one of the top cities in Kansas to check out is Lawrence. This city is home to the University of Kansas, helping to create its youthful, progressive population and bohemian atmosphere.
Tallgrass Prairie National Preserve
Tallgrass Prairie National Preserve is another interesting place in Kansas to experience nature. National Preserve is located in the Flint Hills region of Kansas, north of Strong City.
There are also a handful of historic buildings on the preserve, including the 19th century Spring Hill Ranch House and the Limestone Barn.
Visit this place for a good time and while there, your chances of seeing a bison are higher as these animals are said to be spotted there sometimes.
Eisenhower Presidential Library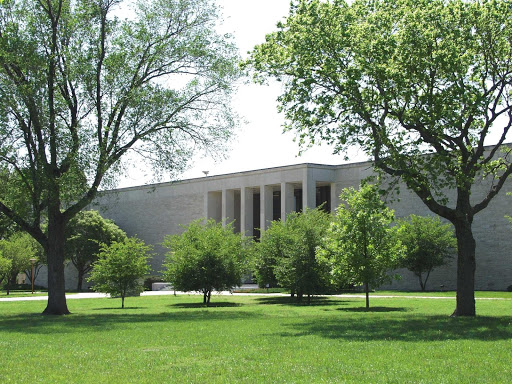 With legacies of former presidents being preserved in the US, this is a place to learn about the legacy and life of the 34th president of America.
The Dwight D. Eisenhower Presidential Library, Museum, and Boyhood Home is the presidential library and museum of Dwight David Eisenhower, the 34th president of the United States, located in his hometown of Abilene, Kansas.
A visit to these places to learn about his life won't be a bad thing at all, which is why it is one of our best places to visit in Kansas.
Cosmosphere: Places to visit in Kansas
Cosmosphere is a space museum and STEM education center in Hutchinson, Kansas, United States. It was previously known as the Kansas Cosmosphere.
This is the second largest space museum on the planet, and it is packed with fascinating attractions and exhibits.
In the Carey Digital Dome Theater, you can watch movies about space exploration on a two-story, domed screen.