Looking for places to visit in Michigan and not quite settling on any? Don't worry, as your trusted website, Stepcountry.com exists to make sure you don't struggle to find the very interesting places to visit when you travel to any country as a tourist.
In this article, we are going to look at the very best places to visit in Michigan.
America is a country of so many states and each state boasts of something unique and in faraway Michigan, there are a plethora of places to visit as you will soon find out in this article. From the outdoorsy to the intellectual to the cosmopolitan, the Great Lakes State has it all.
Come along let us show you the best places to visit in Michigan.
Places to visit in Michigan
Sleeping Bear Dunes National Lakeshore
This is one of the unique places to visit in Michigan.
Sleeping Bear Dunes National Lakeshore is in Michigan's Lower Peninsula. The park is known for the huge scalable dunes of the Dune Climb.
Beaches include Platte River Point, where the river flows into the lake.
The Sleeping Bear Heritage Trail winds through forests and the Port Oneida area with its 19th-century farmsteads.
Traverse City

Traverse City is one interesting place in Michigan.
This northern Michigan destination has, over the years, earned a reputation as a culture and foodie hub that has certainly added to its already awe-inspiring curb appeal.
Though with a population of just about 15,000, Traverse City is a lively place to be in Michigan.
One of the biggest film festivals in the country, the Traverse City Film Festival, is held in Traverse City every year.
Traverse City is indeed one of the best places to visit in Michigan.
Places to visit in Michigan: Pictured Rocks National Lakeshore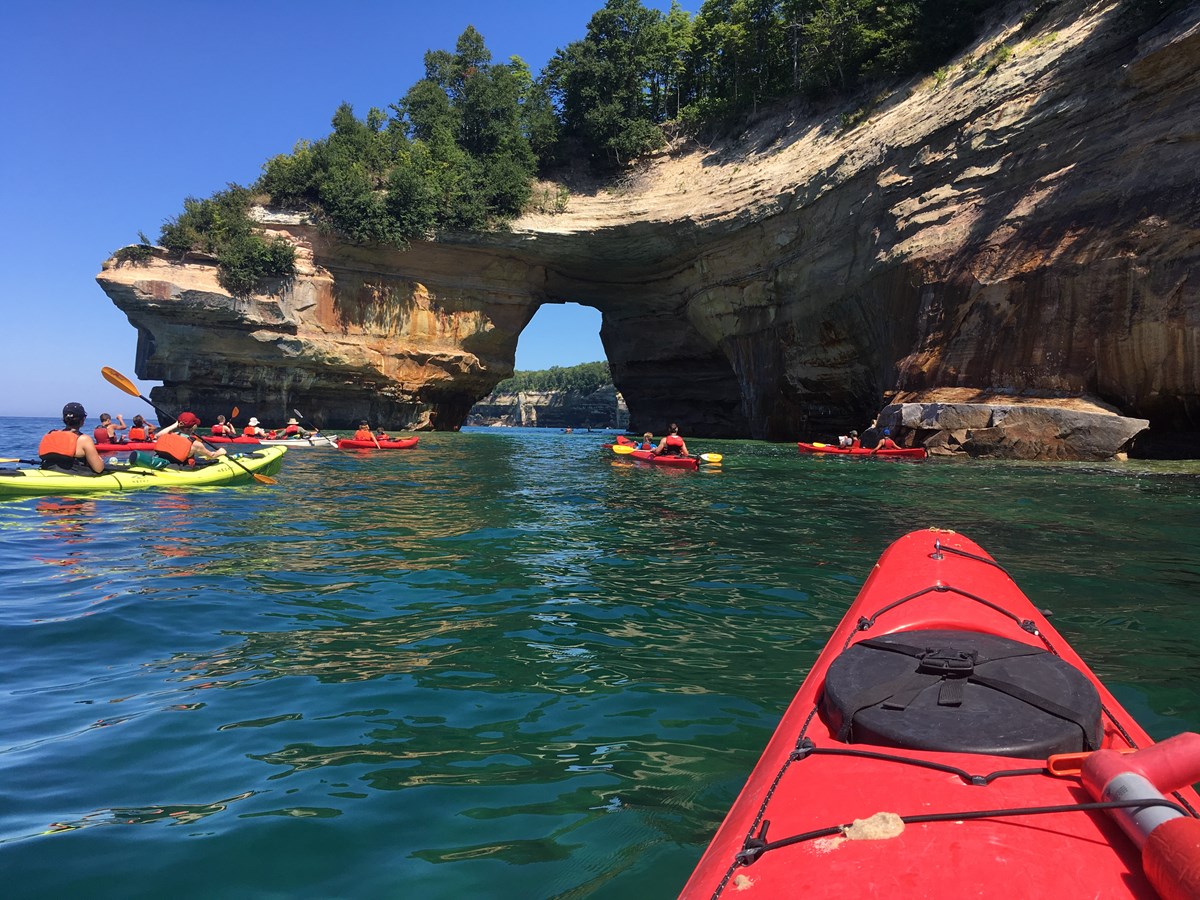 Pictured Rocks, America's first national lakeshore, overlooks Lake Superior in Michigan's Upper Peninsula.
Its beautiful, diverse landscape attracts outdoorsy types year-round.
On the lakeshore's roughly 100 miles of hiking trails, travelers can see everything from spring wildflowers to colorful fall foliage to stunning ice formations, depending on the season.
Plus, visitors can swim and boat in the warmer months and ice climb and cross-country ski during the colder months.
Petoskey
Petoskey is a city and coastal resort community in the U.S. state of Michigan.
The population was estimated at 5,670 at the 2010 census.
It is the county seat of Emmet County, located at the northern end of the Lower Peninsula.
Visitors can also try other winter activities like ice skating, snowmobiling, and sledding.
Petoskey is a charming lakeside community known for its natural beauty, Victorian architecture, historic Gaslight Shopping District, and of course, Petoskey Stone.
Places to visit in Michigan: Mackinac Island
This is a beautiful island with a lot of history that includes banning cars from traveling there with only ferries allowed at some point in time. Nonetheless, it is a whole new experience being on this island for any visitor that makes it there.
Once on Mackinac, visitors can taste some of its world-famous fudge, tour historical sights like Fort Mackinac, and explore its state park, which covers more than 80% of the island.