One of the places around the world where beaches are so easy to access is Colombia. Here you can find some of the world's most beautiful beaches to past time at. So what are the top beaches in Colombia that you should add to your destination list? This article has that for you.
We are going to bring to you some of the top beaches in Colombia that you should try to visit when in this South American county for a holiday.
Access to the beaches is generally easy and, in most cases, you'll find beach chairs and sun or wind shelters available for rent for a reasonable fee.
Beaches in Colombia
Hang on here as Stepcountry.com brings you the top five beaches in Colombia worth your time and money.
1. Beaches in Colombia: Playa Blanca
The Playa Blanca beach is located on Isla de Baru; it is a long and narrow white-sand beach with very clear water and small waves all around.
Set back from the beach are rustic restaurants serving fresh fish and other typical Colombian fares.
The water is shallow and warm here and is ideal for floating or snorkeling.
The beach can be reached via a 45-minute scenic boat ride departing right from the port in the Old City, a trip to the beach is one of the popular things to do in Cartagena and a regular excursion arranged by hotels.
Beaches in Colombia: Playas de Palomino
Playas de Palomino is one of the beautiful beaches in Colombia located in the small town of Palomino.
The beach, with its blond sands backed by palm trees, stretches for miles and miles both east and west of town.
It is one of the beautiful places to visit for its serenity where you can just relax and enjoy the large waves.
3. Parque Nacional Natural Tayrona
Tayrona National Park, one of the top beaches in Colombia located in northern Colombia, is a large protected area that covers the foothills of the Sierra Nevada de Santa Marta as they meet the Caribbean coast.
Parque Nacional Natural Tayrona is known for its palm-shaded coves, coastal lagoons, rainforest, and rich biodiversity.
At the heart of Parque Nacional Natural Tayrona, the Pueblito ruins are an archaeological site accessed via forest trails, with terraces and structures built by the Tayrona civilization.
4. Beaches in Colombia: La Boquilla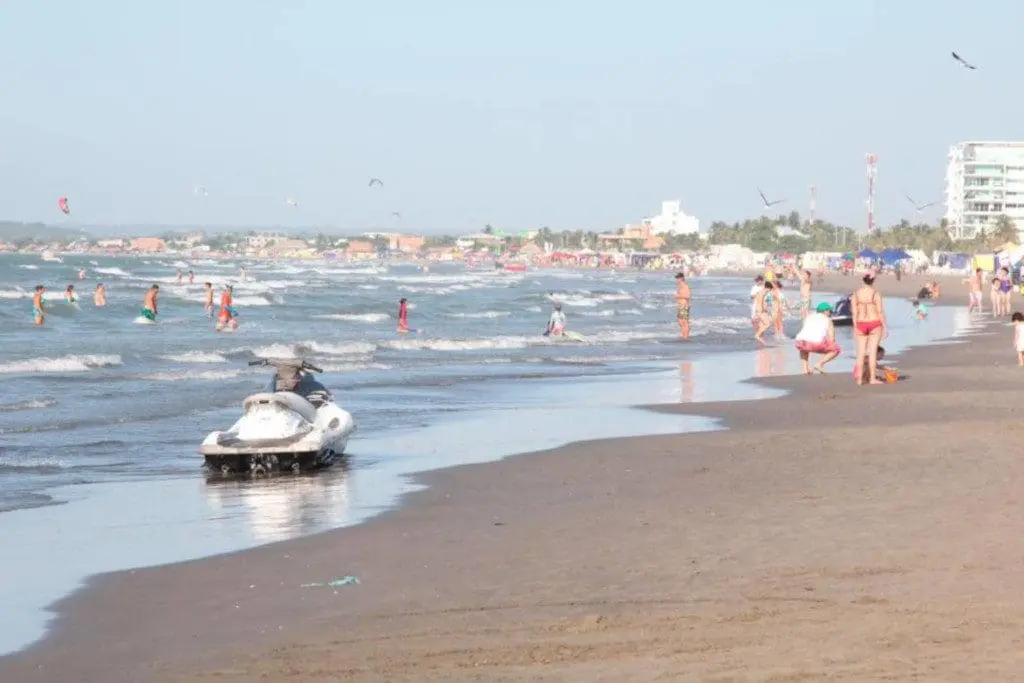 La Boquilla beach is located at the north end of Cartagena, about five minutes by taxi from the Old City is La Boquilla.
Here, you'll find beach action with a more local feel.
The beach here is long, wide, and flat, and it's popular with Colombians visiting from other parts of the country.
Playa La Boquilla beach takes its name from a working fishing village, located some distance further up the coast.
5. Playa Rodadero
Rodadero Beach is a long stretch of sand dotted with palm trees backed by hotels and restaurants on the north end of a wide bay near Santa Marta.
This is a very busy beach and quite the most popular with families and Colombians from nearby Cartagena, with lots going on at any time of the day or night.
You'll find a lively scene and amazing people-watching opportunities. The waves here tend to be small, ideal for swimmers of all abilities.