There are quite a number of interesting places to visit in Wisconsin when you find yourself in the Cheese State or the Dairy State as many people refer to it.
Wisconsin is a state that boasts of many desirable travel locations from big cities to national parks, offering a range of sights and attractions for thrill-seekers, nature lovers,, and families.
It is, thus, important to have a guide to the places to visit in Wisconsin when you are in that state.
Wisconsin was admitted to the union as the 30th state on May 29, 1848.
One of the north-central states, it is bounded by the western portion of Lake Superior and the Upper Peninsula of Michigan to the north and by Lake Michigan to the east.
Be with us as we give you an overview of places to visit in Wisconsin. These are places that will be of interest to you that would make you want to go back there every time.
Places to visit in Wisconsin
Let us set the ball rolling on the places to visit in Wisconsin.
One bit of caution to you as you travel to all these places is that you do not need to follow the dress patterns on indigenes of Wisconsin as you are a first-time visitor.
The cold might just worry you a bit if you try to dress and look the way that indigenes look.
If you are planning to spend more time there, then with time, you should be able to adapt and then begin to dress the way that they do.
Places to visit in Wisconsin: Lake Minocqua
If you are a lover of nature and for waterbodies for that matter, Lake Minocqua in Wisconsin should appeal to you quite a lot.
Lake Minocqua is a large lake in Oneida County that plays host to many tourists.
Lake Minocqua is most popular during the winter where snowmobiling is much enjoyable there, in the summer though, waterskiing and boating are site attractions in the lake.
Lake Minocqua also contains different kinds of fish, some of which include Walleye, Musky, Panfish, Largemouth, and smallmouth bass, and Northern Pike.
This is one of the very best places to visit in Wisconsin.
Madison is also a place to visit in Wisconsin
Madison is the capital city of the Wisconsin state boasting about 260,000 settlers.
Madison is known for the domed Wisconsin State Capitol, which sits on an isthmus between Lake Mendota and Monona.
The Wisconsin Historical Museum documents the state's immigrant and farming history.
The city's paved Capital City State Trail runs past Monona Terrace, a lakefront convention center designed by Frank Lloyd Wright.
The uniqueness of this city makes it an interesting place to visit.
Many college students reside in Madison because the city is home to the University of Wisconsin-Madison.
Madison has the feel of a college town combined with the benefits of a metropolitan area, yet a short drive out of the city gives travelers access to the countryside.
Bayfield, a place to visit in Wisconsin
Bayfield is a small but very unique city in Wisconsin.
Bayfield is a city in Bayfield County, Wisconsin, United States.
The population was 487 at the 2010 census.
This makes it the city with the smallest population in Wisconsin.
Bayfield is a small city with rich history, tourists should visit.
It is the gateway to the Apostle Islands National Lakeshore.
Bayfield Maritime Museum and Bayfield Heritage Museum are two popular museums in the small Bayfield city with its biggest attraction being the Apple Fest in October which is organized yearly.
Apostle Islands
These Islands are a great sight to behold in Wisconsin.
The Apostle Islands are a group of 22 islands in Lake Superior, off the Bayfield Peninsula in northern Wisconsin.
The majority of the islands are located in Ashland County; only Sand, York, Eagle, and Raspberry Islands are located in Bayfield County.
The islands are home to Meyers Beach, Bayfield Headquarters, the Little Sand Bay Visitor Center and fishery, and the Northern Great Lakes Visitor Center.
Visitors should be aware that the only way to the islands is by water.
Pattison State Park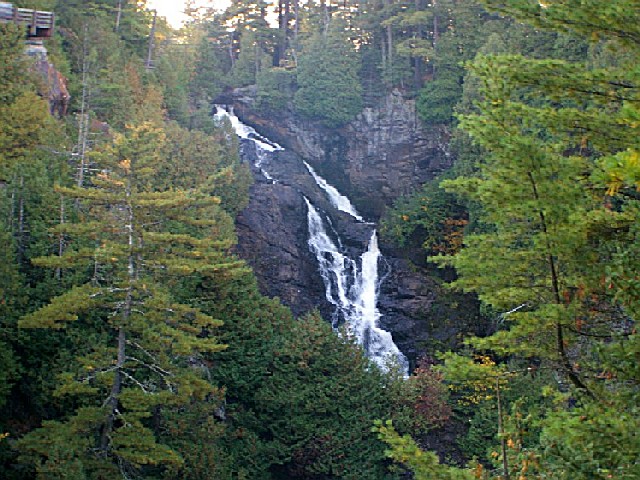 Pattison State Park is definitely one of the places to visit in Wisconsin for a good natural viewing experience.
Located on the Black River, the Pattison State Park contains both Big Manitou Falls, the highest waterfall in Wisconsin at 165 feet, and Little Manitou Falls, which is 30 feet.
Pattison State Park was established in 1920.
This is not to scare you, to say the least, but native Americans were said to have believed to hear the Great Spirit's voice from the falls.
Source: StepCountry