There are several beautiful lakes in the US. It is quite a rarity to move around all the states in the US and not spot a beautiful lake, which means that a lot of the states have lakes; what the most beautiful lakes in California the state we have decided to feature in this article.
California is one of the more endowed states in the US, making it a destination for most tourists across the world.
In this article, we look at the most beautiful lakes in California. You might want to go and have a look at some of these lakes in California when you find yourself in that state.
Here are StepCountry's top 10 lakes in California:
1. Lake Sonoma (Lakes in California)
Lake Sonoma is one of the most beautiful lakes in California.
This beautiful lake is located west of Cloverdale in northern Sonoma County, California, created by the construction of Warm Springs Dam.
Lake Sonoma is one of the closest to the Pacific coast, which gives visitors the opportunity to take in a variety of sights and landscapes in a short amount of time.
Visitors to this beautiful lake can swim in it from anywhere they can while observing safety protocols just so that they won't get drowned.
2. Lake Havasu (Lakes in California)
Formed when the Parker Dam was built across the Colorado River in 1938, Lake Havasu is one of the distinctive lakes in California located on the border between Arizona and California.
When at the shore of Lake Havasu, the things you could easily see are the beautiful mixture of palm trees, barren mountains, and shimmering water under the uniquely blue California sky.
Lake Havasu is in no doubt one of the beautiful lakes in California worth visiting to have a good time either alone or in the company of friends and family.
Lake Havasu is well known for its recreational fishing and boating.
3. Lake Oroville
Lake Oroville, one of the iconic lakes in California, is a manmade reservoir that was originally formed when the Oroville Dam construction project was completed in 1969, which restricted the flow of the Feather River sufficiently to create the lake.
It's located in the western foothills of the Sierra Nevada Mountains in northern California's Butte County, within the Lake Oroville State Recreation Area.
Lake Oroville has more than 167 miles of shoreline and offers camping, picnicking, horseback riding, hiking, sail and power boating, water-skiing, fishing, and swimming.
4. Lake Almanor
Lake Almanor is a beautiful place to be for a holiday in California.
Lake Almanor is a large reservoir in northwestern Plumas County, with a capacity of 1,308,000 acre feet and a maximum depth of about 90 feet.
Lake Almanor is surrounded by hundreds of thousands of acres of national forest, nestled into the Sierra Nevada Mountains, making it one of the state's most beautiful and remote destinations.
5. June Lake
June Lake is quite a popular destination for many visitors.
As one of the most beautiful lakes in California, many people visit this lake to enjoy the scenic beauty of the mountain towns around.
However, due to its high altitude, the summers are mild and even cool by southern California standards, but during the winter, the conditions can be downright treacherous.
6. Mammoth Lakes
Like June Lake, Mammoth Lakes is much closer to Yosemite National Park, though once you've seen the town and lake, you may not want to leave.
Keep in mind that idyllic locales like Mammoth Lakes draw visitors from near and far all year long, so if it's on your itinerary, plan ahead and book your lodgings well in advance.
This lake is easily California's best resort for skiing and snowboarding in the winter, and mountain biking in the summer.
7. Lake Tahoe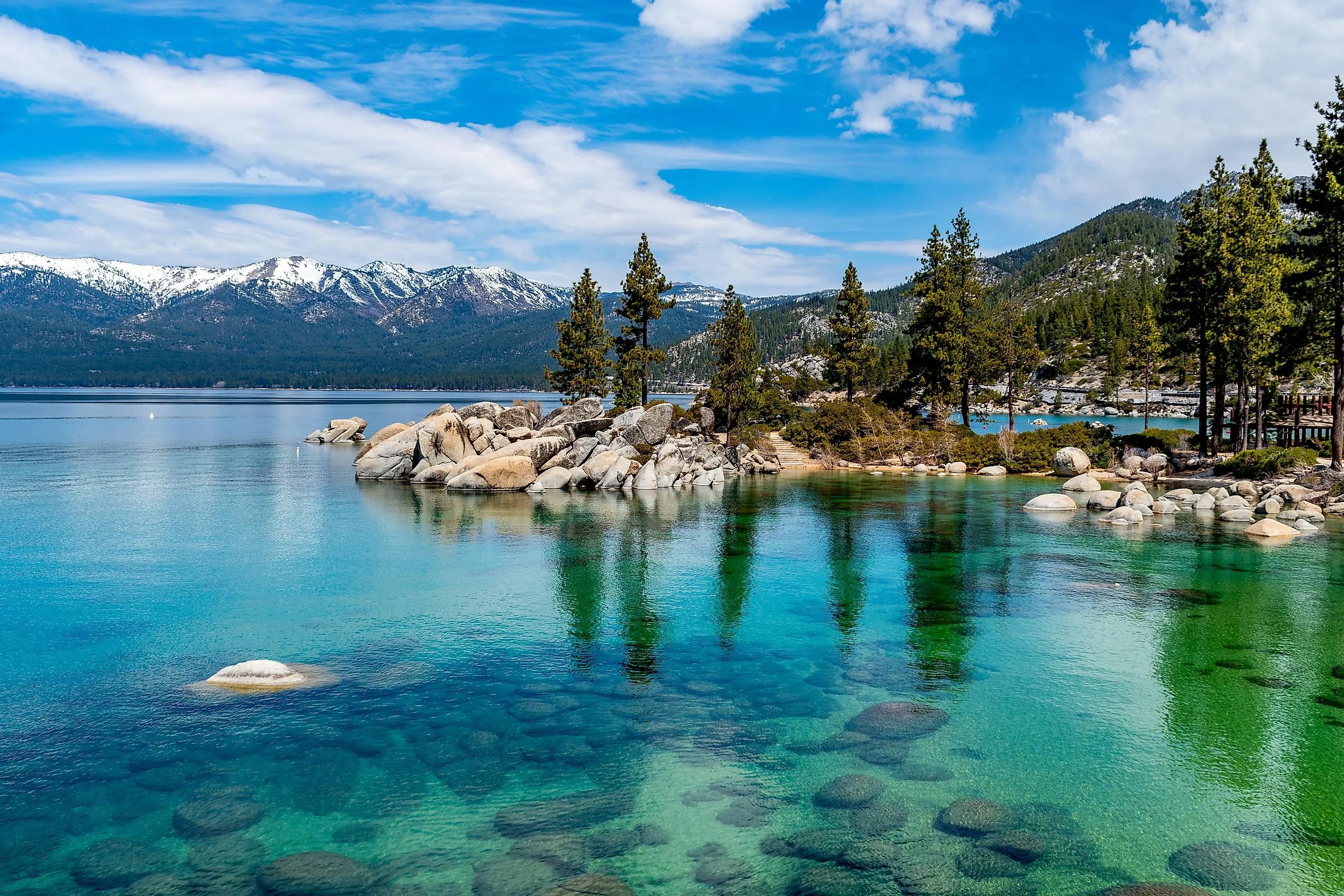 Lake Tahoe might not just be one of the beautiful lakes in California, is it arguably one of the most famous.
Over the years, this lake has attracted several well-to-do travelers from all over the world.
It's located just off Interstate 80 on the border between California and Nevada in the vast and impressive Sierra Nevada Mountains.
What has to be noted, however, is that the weather and road conditions around Lake Tahoe can be extreme in the winter, so for those who'd rather not chance driving on ice and snow, consider flying directly into Tahoe.
8. Shasta Lake
Located just north of Redding along California's Interstate 5, Shasta Lake is one of California's most beautiful and popular lakes that attract several visitors.
It's surrounded by dramatic mountains that remain stark and barren for much of the year, creating a vivid contrast with the lake's clear water and the blue sky overhead.
Summer activities include fishing, boating, camping, and waterskiing, and for winter sports enthusiasts, there are ski resorts nearby – as well as an abundance of state and national parks offering areas for mountaineering, cross-country skiing, hunting, and snowshoeing.
9. Whiskeytown Lake (Lakes in California)
Whiskeytown Lake isn't as well-known with visitors as Shasta Lake.
However, it's popular with locals for its natural beauty, convenient location, and the fun party atmosphere that seems to take up residence there during the summer months.
Important scenes around this Lake include four amazing waterfalls, nearly 80 miles of trails, and old mining sites leftover from the gold rush in the 1800s.
10. Donner Lake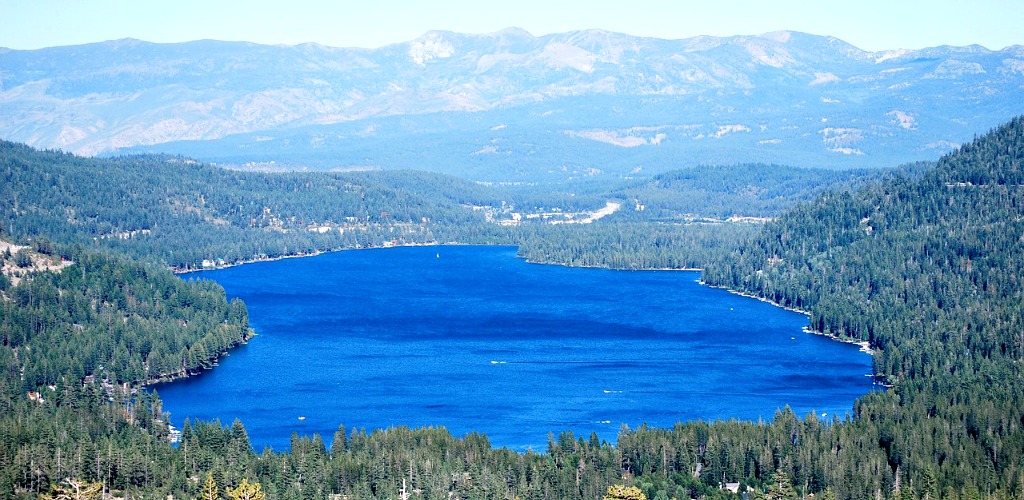 Donner Lake is a freshwater lake in Northeast California on the eastern slope of the Sierra Nevada and about 20 miles northwest of the much larger Lake Tahoe.
A moraine serves as a natural dam for the lake.
Donner Lake is a relatively small lake by California Lake standards, but what it lacks in size, it makes up for in scenery.
It's beautiful year-round, but particularly so in winter, when the surrounding pine-treed and bare rock mountains are covered with snow, giving the whole area a distinctly Alaskan feel.